Career Event / Virtual Recruitment Days- New Positions Available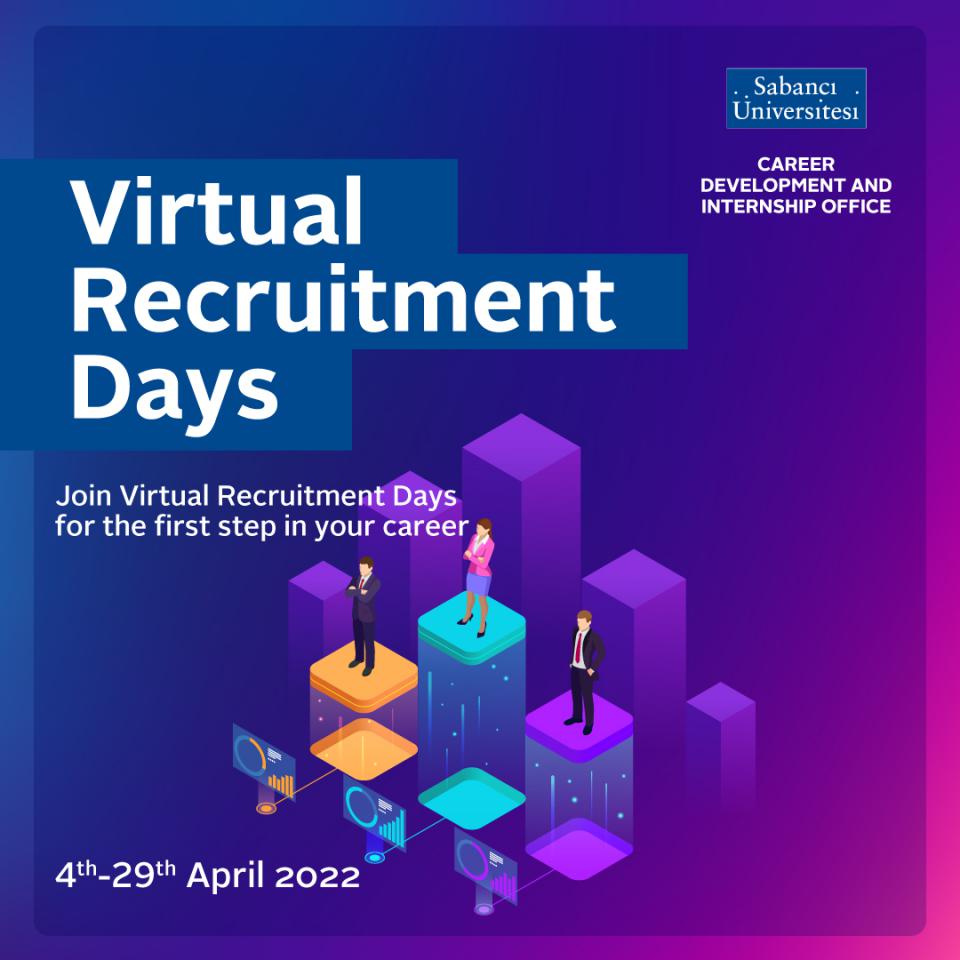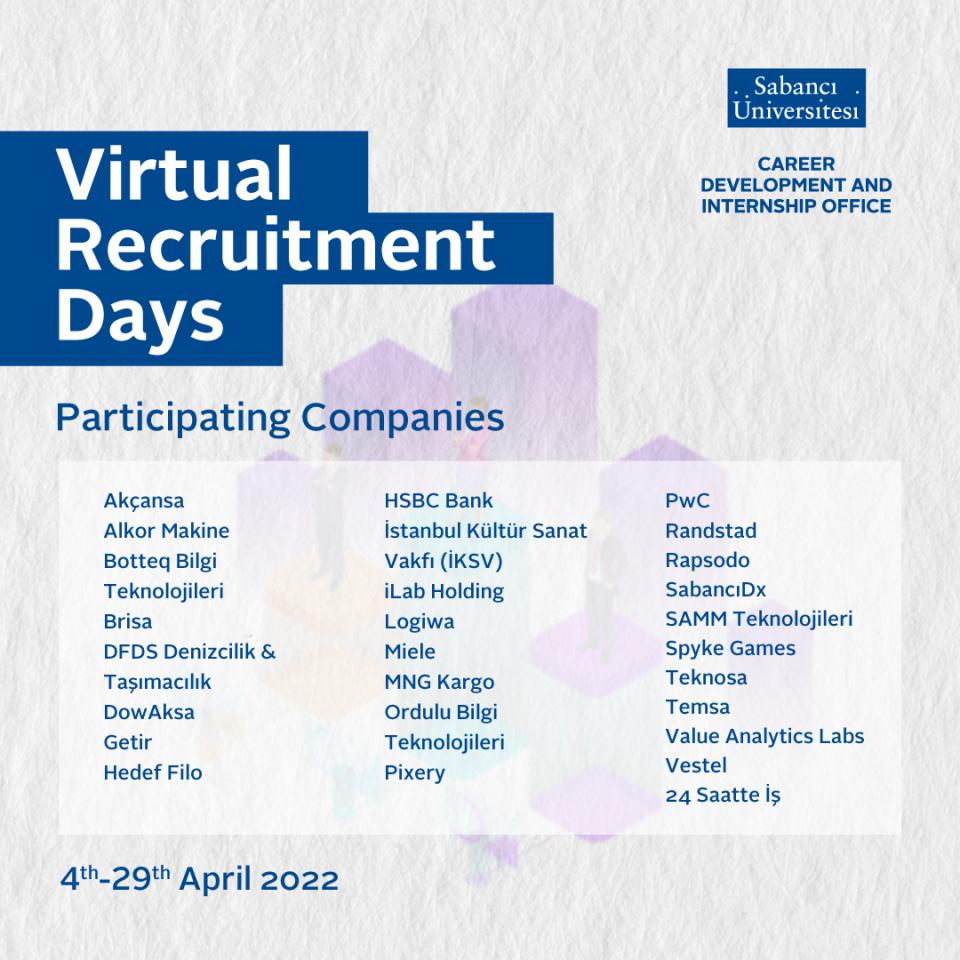 Dear students
Leader institutions will conduct real interviews for summer internships and new graduate jobs virtually. By joining this event, you will gain interview experience and may receive job or internship offers if you succeed in the interviews.
4 easy steps to register:
- Please visit Jobs/Internship section CareerLink to apply open positions by the participating companies (You can see "VRD" or "Virtual Recruitment Days" on the relevant position name of participating company).
- Check your eligibility for the position before applying, if yo do not meet the requirements your appointment will be cancelled.
-If you are eligible, you should first apply for the position under Job/Internships.
- Take an appointment under Events section for the interview.
If you do not have any available time during the company's slot, you can still apply the positions and have a chance for interview another time if the company finds you qualified for the role.
Please note that the companies will be publishing their job/internship posts during March and early April depending on their interview date. Some of the slots are already full and registration is closed but you can apply to the positions depending on the deadline.
Current Positions to Apply - Virtual Recruitment Days:
IOS Developer - Getir New Grad (Last day to apply)
InternTech Online Staj Programı - Intertech Summer Internship
Data Scientist Intern - SabancıDx Summer Internship(Interview Registration Closed)
İnsan Kaynakları Uzun Dönem Stajyeri - Akçansa Internship (Interview Registration Closed)
Mühendis-AR-GE Merkezi - SAMM Teknoloji New Grad & Summer Internship (Interview Registration Closed)
Rapsodo Internship Program Internship (Interview Registration Closed)
Process Development Engineer - Brisa New Grad (Interview Registration Closed)
Future Leaders Young Talent Program (New Grad) - HSBC New Grad (Interview Registration Closed)
AI Developer - Ordulu Bilgi Teknolojileri New Grad & Summer Internship (Interview Registration Closed)
Full Stack Developer -Ordulu Bilgi Teknolojileri New Grad & Summer Internship (Interview Registration Closed)
IOS Developer -Ordulu Bilgi Teknolojileri New Grad & Summer Internship (Interview Registration Closed)
UI/UX Designer -iLab Holding New Grad & Summer Internship (Interview Registration Closed)
Web Analitiği -iLab Holding New Grad & Summer Internship (Interview Registration Closed)
Jr. Java Developer -iLab Holding New Grad & Summer Internship (Interview Registration Closed)
Jr. Business Development Specialist -iLab Holding New Grad & Summer Internship (Interview Registration Closed)
Product Growth --iLab Holding New Grad & Summer Internship (Interview Registration Closed)
ML Engineer --iLab Holding New Grad & Summer Internship (Interview Registration Closed)
UX Researcher --iLab Holding New Grad & Summer Internship (Interview Registration Closed)
Software Engineer - Spyke Games New Grad (Interview Registration Closed)
New Graduate Appilcations - PwC New Grad (Interview Registration Closed)
RPA Developer - Botteq Bilgi Teknolojileri Summer Internship (Interview Registration Closed)
Satış Departmanı Stajyeri - MİELE Summer Internship (Interview Registration Closed)
Pazarlama Stajyeri -MİELE Summer Internship (Interview Registration Closed)
Müşteri İlişkileri Stajyeri - MİELE Summer Internship (Interview Registration Closed)
Lojistik Stajyeri -MİELE Summer Internship (Interview Registration Closed)
Satın Alma Mühendisi - Alkor Makine New Grad (Interview Registration Closed)
Satış Mühendisi -Alkor Makine New Grad (Interview Registration Closed)
Data Scientist - Value Analytics Lab New Grad (Interview Registration Closed)
Long-Term Intern - Value Analytics Lab Internship (Interview Registration Closed)
Stajyer & Yeni Mezun (Teknoloji & E-ticaret) - Teknosa New Grad & Summer Internship (Interview Registration Closed)
Intern Software Engineer-24 Saatte Iş Internship (Interview Registration Closed)
Talent Station Mühendis - Temsa Summer Internship (Interview Registration Closed)
Elektronik Mühendisi - Vestel New Grad (Interview Registration Closed)
Career Development & Internship Office
career.sabanciuniv.edu